Physician Administered Ketamine Treatment

KETAMINE CLINIC
Private, Individualized, Physician-Monitored Ketamine Treatment
Our Ketamine Clinic offers Ketamine therapy for conditions including depression, anxiety, post-traumatic stress disorder, and obsessive-compulsive symptoms, as well as chronic pain conditions. Ketamine is also an effective medication to help with the detox process for those struggling with substance dependence.
Unlike many Ketamine Clinics, we schedule one patient at a time, allowing us to dedicate our attention to you completely during your treatment sessions. Treatment takes place in a private room in a quiet, relaxed setting, where you will be monitored by a physician throughout your treatment.
SCHEDULE NOW
---
Ketamine Treatment Cost:
Ketamine is currently offered through our house call practice as well as our office-based Ketamine Clinic.
If you choose to visit our clinic at 12 Medical Park Drive, initial consultation visits are $300.00 for a 60 minute session and subsequent dosing visits are billed at $525.00 and scheduled as 90 minute visits to enable adequate recovery time.
For house call Ketamine treatment, initial consultation visits are $600.00 for 90 minutes and include a full medical assessment. Your initial dose will take place with physician monitoring at your second visit and, depending on route of administration, this visit averages approximately two hours, billed at $900.00. Subsequent visits are between 60 to 90 minutes, billed at $750.00.
Once you are on a stable regimen, dose visits take place anywhere from every two weeks to every three months, depending on how long you maintain a response. Given this, cost of treatment over time varies. Ketamine treatment is not covered by insurance and is a private pay service.
---
How is Ketamine Administered?
We offer a variety of options to choose from with Ketamine treatment. The most well-established method is periodic intravenous (IV) infusions or intramuscular (IM) injections. The frequency of doses needed varies among individuals, but you may be able to go weeks between doses, once your optimal regimen is established. We also use versions of Ketamine that can be self-administered at home, for those who choose these options. These include oral or nasal spray options. Because these methods can be effective, and are often more affordable, some clients choose to augment or replace their IV or IM doses with these methods of administration over time. At your initial intake session, we will discuss the various options you will have.
---
Psychedelic-Assisted Psychotherapy using Ketamine:
Ketamine-Assisted Psychotherapy is a form of psychedelic-assisted psychotherapy, which has a long history of scientific studies supporting its use. Psychedelic-assisted psychotherapy uses legal amounts of psychedelic substances or entheogens to augment psychotherapy work. This is a very different use of Ketamine, where the medicine is intentionally used in psychedelic doses in collaboration with an expert therapist. Contact us if you would like more information on this program.
---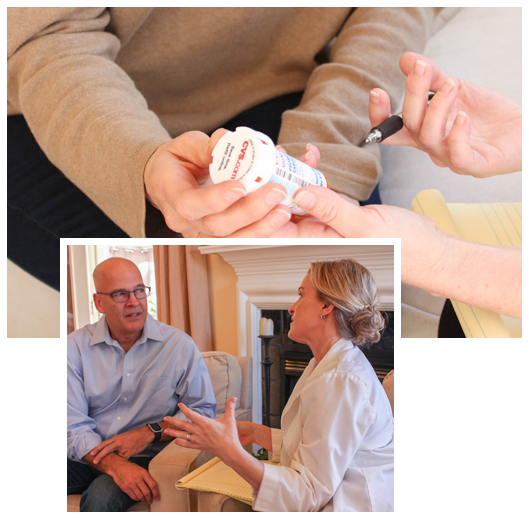 Initial intake visits may be scheduled by calling 828-230-9000 or emailing Dr. Meidad Goldman at mgoldman@conciergehousecalls.com. Ketamine therapy is offered through our medical, psychiatric, and detox service lines. You may choose to continue working with your current pain management doctor or psychiatrist, who may refer you to us exclusively for Ketamine treatment while continuing to manage your overall care. We will collaborate with this provider for your treatment planning. Because we take a limited number of new clients each month, availability can vary. If our practice is full, you will be added to a wait list. We are not always able to schedule new clients on an urgent basis. If you are not an established client and you or your provider feel you are in crisis, you may need need to access existing crisis services, as there may be a wait before we are able to accept you into treatment.
Though Ketamine has become a popular and well known treatment, it is not a fit for everyone and is best used when other treatments haven't worked well. Ketamine is not FDA approved for these uses, but it is scientifically proven to work for a large percentage of people, and we feel our clients should have the option of this treatment if they choose. We use dose regimens that have been established as safe and effective by multiple, rigorous scientific studies. However, there are still no long-term studies of the effects over a person's lifetime, so the decision to use Ketamine needs to be carefully considered by each individual after discussion with your provider of the potential risks.