Medical Care from Specialized Physicians
Concierge Medicine and Psychiatry is a private pay practice, offering Medical Care, Psychiatric Care, and Ketamine Therapy, with office-based treatment, House Calls, and telemedicine visits. You will receive care from a board-certified physician with specialized expertise, shorter wait times, and will only pay for the services you need.
---
About Concierge Medicine
Concierge House Calls is a new approach to medical care, providing day and evening access to immediate care from a physician who knows you.
Unlike many concierge practices, we do not charge a retainer or membership fees. We charge a transparent hourly rate, and you pay only when you need our services.
MEET THE DOCTORS
---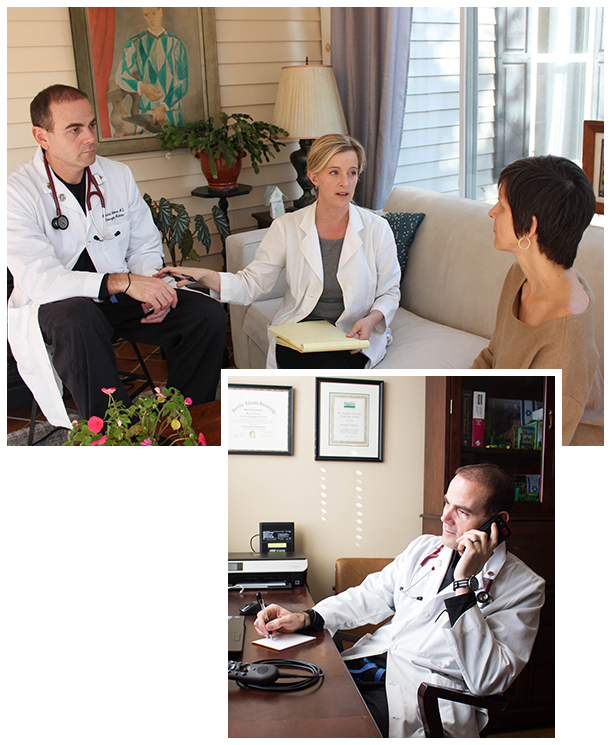 HOURS: Monday – Thursday 9:00 a.m. – 5:00 p.m.
Ten Reasons our practice is right for you:
1
A specialized doctor when you need it most
2
The privacy of house call visits
3
No driving or waiting rooms - We can come to you
5
Escape insurance dictated care
6
No more rushed doctor visits
7
Cutting edge treatments
8
Expertise and years of experience
9
Empowerment- help design your own care
10
Same day appointments for urgent needs
---
"We are so grateful for the care Dr. Meidad Goldman provided my husband for a chronic pain condition. His expertise and reassuring manner made us very comfortable that we were in good hands.
I'm so glad this level of expertise in available in our area!"
– Jeanine P.